XL598's service history
Built by Hawker Aircraft Ltd at Kingston-upon-Thames, as a Hunter T.8 for the Royal Navy, XL598 took its first flight on 15th October 1958 flown by David Lockspeiser.
It was handed over to the Fleet Air Arm on 1st December, entering Squadron service with 764NAS (Navy Air Squadron) on 8th January 1959. Issued the identity '703' with an 'LM' shore code, XL598's early service life was 'interesting' to say the least - it was hit by a fuel bowser and tractor in separate incidents, and also ingested a Royal Navy beret through its intake!
It was sent to RNAY Belfast for maintenance in November 1960, and did not return to Fleet Air Arm service for two years. On 9th May 1962, the aeroplane was issued to 738NAS at Lossiemouth, where it was operated as aircraft '632'. It moved with the Squadron to RNAS Brawdy in November 1963, and over the next two years was operated as aeroplane '632', '779' and lastly '775'. Following a period of maintenance at 5MU (Maintenance Unit) Kemble (November 1965-June 1966), XL598 re-entered Fleet Air Arm service with 738NAS as '778' on 19th July 1966 and remained in use there for the next four years, suffering a bird and a lightning strike in the process. It was moved back to Kemble for maintenance in May 1970.
XL598 arrived at RNAS Yeovilton on 15th October 1971, where it joined Airwork Services Ltd's Air Direction Training Unit (ADTU) as '741' with a 'VL' shore code applied on the tail. On 1st December 1972 XL598 became a member of the newly formed Fleet Requirements and Air Direction Training Unit (FRADU) fleet, following the merger of the ADTU with the Fleet Requirements Unit (FRU). It kept its '741' for a short time before it was changed to '871'. For the next eleven years, XL598 was employed on military taskings, aside from periods of maintenance (March-September 1977) and re-finishes (November-December 1974 and November 1977-January 1978, when it emerged as aeroplane '870'), until 29th July 1983, when it was ferried to RAF Abingdon in preparation for a comprehensive overhaul.
On 22nd June 1984, XL584 returned to RNAS Yeovilton as one of the first Hunters to be painted in the new dark sea grey finish, that was to become standard across the fleet. The aeroplane was assigned the fleet number '880' and aside from two periods of maintenance with Lovaux at Hurn (February-December 1988, and January-December 1991) remained in use until it was retired from Fleet Air Arm service on 5th March 1993. It was placed in store at RNAS Yeovilton and used for essential spares until being placed up for disposal in November 1994.
---

[© Mike Hall]
---

[© Eric Tammer]
---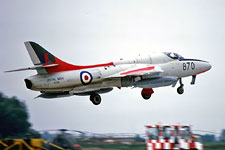 [© Adrian M. Balch]
---
XL598's civilian life

Entered into the Sothebys auction, XL598 was bought by Mike Beachyhead, and following preparation work by Barry Pover it was ferried to Exeter Airport under the UK civilian registration G-BVWG.
The aeroplane was bound for a new life in South Africa, and following further work carried out at Exeter, which included the removal of all its Fleet Air Arm markings XL598 was declared ready for its long ferry flight by air. Well known Hunter display pilot Brian Henwood agreed to fly the aeroplane with Mike Beachyhead in the right hand seat.

On Wednesday 19th April 1995, XL598 took off from Exeter, and routing via Italy, Greece, Egypt, Ethiopia, Kenya and Malawi arrived at Cape Town a week later. The aeroplane was re-registered on the South Africa civilian register as ZU-ATH, and was later re-finished in representative Black Arrows colours and became one of the founder members of the famous Thunder City fleet.

With the winding down of the Thunder City collection during 2011, ZU-ATH was offered for sale via bid auction that summer, but did not find a buyer.
It is currently stored in a dismantled state, and would require an overhaul before it could be flown again and is now advertised for sale with Historic and Classic Aircraft Sales.

- December 2020

Links
Historic and Classic Aircraft Sales:
---

[© Adrian M. Balch]
---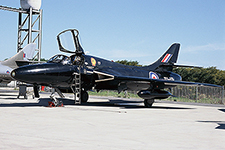 [© Paul Ridgewell]
---