XL565's service history
Hunter XL565 was built as the third production T.7 aeroplane by Hawker Aircraft Ltd at its Kingston-upon-Thames factory, It took its first flight on 3rd February 1958 at the hands of Frank Bullen, but did not go to the Royal Air Force immediately, instead being retained and used by the Ministry of Supply, and then later by Rolls Royce on various trials work.
Following the loss of Hunter T.7 XL615 in a flying accident, XL565 was delivered to the RAF at Khomaksar, Aden as a replacement airframe with RAF 8(F) Sqn on 12th December 1960. The aeroplane served in Aden as aeroplane 'Y' and later saw service, (June 1963-August 1964) with 1417Flt, as the fleet of based Hunter T.7s were pooled together and used by the based units (RAF 8, 43 and 208 Sqns) as and when required. The aeroplane was transferred officially to RAF 208(F) Sqn in 1964, and remained in use with it until being returned to the UK for overhaul midway through the following year.
Freshly out of maintenance at RAF Kemble, XL565 spent time with RAF West Raynham Station Flight before joining 4FTS (Flying Training School) at RAF Valley as aeroplane '89' where it was used to assist with the advanced flying training of RAF pilots. It was then transferred to 237OCU (Operational Conversion Unit) at RAF Honington in Suffolk, and was operated as a weapons and pilot trainer for the Unit's Buccaneer crews in toned down 4FTS livery. It was withdrawn from service in 1980, and placed in long-term store at RAF Kemble with 5MU (Maintenance Unit).
On 25th November 1981, XL565 was officially transferred to Royal Navy charge, yet it remained in store until February 1983, when it was moved to RAF St Athan to begin the process of being restored to airworthy condition by the on-site AES (Aircraft Engineering School). On 7th October 1983 XL565, now fitted with the rear fuselage of T.8 WT745 joined the Fleet Requirements and Air Direction Unit (FRADU) at Yeovilton. The aeroplane was assigned the call-sign '876' but this was never officially applied on the aeroplane, therefore it remained uncoded. The aeroplane was sent on loan to the Institute of Aviation Medicine at Farnborough on 17th February 1984, where it remained in use for the next six years until it was officially returned to the RAF. Refinished in wraparound camouflage, XL565 remained in service at RAF Lossiemouth until 1991, when it was retired, flown to RAF Shawbury and subsequently put up for disposal.
---

[© via Aldon Ferguson]
---

[© Rob Schleiffert]
---

[© Ed Groenendijk]
---
XL565's civilian life
XL565 was put up for disposal in 1993, and was sold into private ownership. The aeroplane was moved by road to a location in Closterworth, Lincolnshire during early 1994 where it was placed in store. During December 1997, it was on the move to Ipswich after being sold to Everett Aero, but within a few months it had changed hands again and moved by road to Kemble Airfield in April 1998. Intended to be used as part of a project to mate a two seat cockpit section onto a bigger-engined ex-Swiss AF Hunter F-58 fuselage, XL565 was placed in store after the project was shelved.
Sold by Aeromech to Geoffrey Pool in 2002, XL565 moved by road to Bruntingthorpe and work was immediately begun to restore the aeroplane to ground running condition. Parts were been ordered and an engine sourced, and XL565 undertook its first ground runs in May 2010, and had also been freshly refinished in its RAF Aden livery. It has since became another regular 'live' classic at the Leicestershire airfield.
- December 2020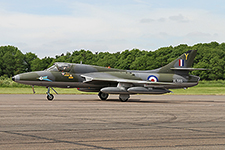 [© Thomas Howe]
---