XX466's service history
Hawker Hunter XX466 began life as T.7 XL620. It was built by Hawker Aircraft Ltd at Kingston-upon-Thames for the Royal Air Force, taking its first flight on 3rd January 1959. It was accepted into the RAF at 5MU (Maintenance Unit) Kemble a month later, where it was prepared for military service. XL620 was then issued to RAF 66(F) Sqn at RAF Acklington where it was used as a training aeroplane. It later moved onto the strength of RAF 74(F) Sqn at RAF Coltishall and was operated alongside its fleet of English Electric Lightnings as a pilot trainer.
In March 1966, the aeroplane was bought back by Hawker Aircraft Ltd, and it was ferried back to Hawkers' Dunsfold factory the following month for overhaul and conversion to unofficial 'T.70' specification.
It was one of two Hunter T.7s sold to the Royal Saudi Air Force, to assist with its pilot training programme, as its pilots were preparing to convert from piston engine fighters to advanced jet flying with the imminent arrival of the English Electric Lightning fighter. On completion of the work carried out at Dunsfold the aeroplane, now issued the Saudi military serial 70-616, was delivered to its new home on 2nd May 1966.
To help make good the losses encountered by the Royal Jordanian Air Force (RJAF) in the Six-day war, 70-616 was presented to HM King Hussein of Jordan in June 1968 by the Saudi Air Force. Here it took on its third military identity of '837' and immediately entered service with the RJAF.
In July 1974 '837' was exchanged for an RAF Hunter FR.10, and it was returned to the UK. Following another refurbishment programme at Dunsfold, the aircraft was re-introduced into RAF service at 229OCU (Operational Conversion Unit) RAF Chivenor under a 'new' military serial XX466. Its stay in Devon was brief, as 229OCU was disbanded and all its aeroplanes were transferred to the newly formed Tactical Weapons Unit (TWU) at RAF Brawdy. XX466 remained in service at Brawdy after the TWU was split into two separate sections (1TWU and 2TWU that was formed at RAF Lossiemouth) in April 1978.
XX466 was transferred to Royal Navy charge at Brawdy on 18th October 1982, but was almost immediately placed on loan to the Institute of Aviation Medicine at Farnborough.
On 17th February 1984, XX466 joined the Fleet Requirements and Air Direction Unit (FRADU) at Yeovilton, and it took on the identity '879' and was operated in its RAF camouflage. It remained in service for only eight months, as its flying status was immediately withdrawn following the discovery of serious deterioration to its wing wiring. It was moved by road to RAF Shawbury for long-term store on 18th October 1984 as a result.
On 15th May 1986, XX466 was moved by road to RNAS Culdrose for ground instructional use, where it was issued with the Fleet Air Arm maintenance serial 'A2638' for its new career with the School of Aircraft Handling (SAH). Used to help train marshallers to manoeuvre aeroplanes on a mock-up flight deck, XX466 was re-issued the call-sign '830' shortly after arrival. It was withdrawn from use in March 1993 and was moved to RN 820 NAS' hangar for storage.
In August 1993, the aircraft made the short journey by road to RNAS Predannack where it was used for Crash rescue training for Royal Navy fire-fighters, a job it kept until June 1996 when it was moved onto the fire training area of the airfield. The airframe was then reportedly destroyed by fire following an exercise.
---

[© Martin Morley]
---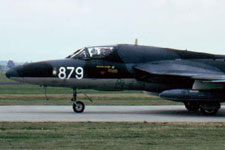 [© John Hale]
---

[© Steve Ryle]
---
XX466's civilian life
HOWEVER, IT LIVES ON!!! - During the autumn of 2004, the cockpit section of XX466 was discovered on Guernsey Airport's fire dump.
How, or when it got there is a mystery, but it was used non-destructive testing by the Airport fire service until it was sold into private hands during June 2016.
The cockpit was moved back to the UK and is now kept with a private owner in Gloucester.
- December 2020

[© unknown]
---