WV372's service history
This aircraft was originally built as a single seat F.4 for the Royal Air Force, by Hawker Aircraft Ltd at its Kingston-upon-Thames factory. First flown on 17th July 1955 by Hugh Merewether, WV372 was later ferried to 5MU (Maintenance Unit) at RAF Kemble where she was accepted onto RAF charge and prepared for military service. It was issued to RAF 222(F) Sqn, based at RAF Leuchars in Scotland on 3rd January 1956 as aeroplane 'H', but suffered an in-flight fire after its jet pipe became detached from the engine during the following November. As a result, WV372 was returned to Hawkers for repair.
The aeroplane was subsequently repaired, but converted to a T.7 two seat trainer, and was returned to RAF charge at Kemble in July 1959, where it was prepared for service and place in store pending issue to a new Unit.
It was subsequently sent to West Germany where it joined the RAF Jever and Gutersloh Station Flights, and later joined RAF 2(AC) Sqn as aeroplane 'R' also based at Gutersloh. The aeroplane made occasional returns to the UK for maintenance during this time, but was returned permanently during 1971, when it became a part of 4FTS (Flying Training School) at RAF Valley, its home for the next eight years.
In 1979, the aeroplane was returned to West Germany and became a part of the RAF Laarbruch Station Flight, before being re-issued to RAF 208 Sqn at RAF Honington back in the UK in July 1981. Operating alongside the Unit's Buccaneer fleet, WV372 remained with the Unit until a move to 237OCU (Operational Conversion Unit) occurred in January 1983. It was moved into store at RAF Abingdon the following year
The aeroplane was transferred to Royal Navy charge on 2nd November 1984, and on 7th December joined the Fleet Requirements and Air Direction Unit (FRADU) at Yeovilton.
Freshly re-finished into dark sea grey colours, WV372 became aeroplane '877' and was flown with the Unit until February 1987, when it was moved into store at RAF Shawbury. Following an overhaul carried out at Hurn (now Bournemouth Airport) by Lovaux Ltd during 1990, WV372 returned to Yeovilton and continued to fly with FRADU until 19th March 1993.
The aeroplane was then ferried to RNAS Culdrose and relegated to ground instructional duties as aeroplane 'A2619'. It was maintained in serviceable condition and regularly taxied until it was withdrawn from use in September 1996, and then sold at auction the following year.
---

[© Bob Turner]
---

[© John Caie]
---

[© Geoff Wakeham]
---
WV372's civilian life
The aeroplane was acquired by Tom Moloney and was ferried to North Weald on 23rd May 1997, under its new civilian registration G-BXFI in preparation for an overhaul, due to be carried out by Gosh That's Aviation.
However, following a change of ownership it was instead flown to Bournemouth on 11 August 1997 by Jet Heritage's Chief Pilot, Jonathon Whaley where a full restoration programme was began. It was re-united with its RAF 2(AC) Sqn colours and flew again on 1998, later moving to its new permanent home at Kemble in December of that year.
Between 1999 and 2010, WV372 was under the ownership of the Fox-One syndicate (derived from her civilian registration BXFI) and was maintained and operated by Delta Jets on the UK and European airshow circuit.
During January 2011, WV372 was sold into new ownership and was moved to Exeter Airport to join the Team Viper stable, where it was maintained by Hunter Flying Ltd (HFL). It retained its classic RAF camouflage scheme, and was used as the lead aircraft of the 5-ship Hunter team, usually in the hands of Sqn Ldr Chris Heames for the 2011 airshow season.
Sadly Team Viper disbanded in the spring of 2012, and after WV372 was ferried to HFL's new base at St Athan in January, it changed hands once more.
It was ferried to its new home at North Weald on 26th July 2012, and began to make a few appearances on the airshow circuit as a solo act during the summer of 2013, which continued through 2014.
Tragically on 22nd August 2015, whilst performing an air display at Shoreham, the aeroplane crashed onto the A27 outside of the Airport in West Sussex, killing 11 people and injuring 16.
- August 2015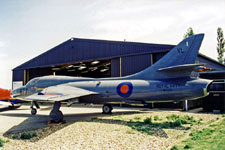 [© Peter R. March]
---

[© Mike Hall]
---