XE665's service history
Built by Hawker Aircraft (Blackpool) Ltd as a Hunter F.4 for the Royal Air Force, XE665 entered military service on 24th May 1955 when it was accepted by 5MU (Maintenance Unit) at Kemble. It was prepared for RAF service, and was later issued to RAF 118(F) Sqn at RAF Jever in West Germany, whom operated it as aeroplane 'A'. the Jever Station Flight then employed the aeroplane before it was returned to the UK in 1957.
After only a two-year career with the RAF, XE665 was transferred to the Royal Navy.
The aeroplane was rebuilt as a T.8 by Armstrong Whitworth Ltd at Coventry on behalf of Hawker Aircraft Ltd. It was handed over to the Fleet Air Arm at RNAS Lossiemouth on 11th April 1959, and entered service with 764NAS at the same location three months later. Assigned the fleet number '706', XE665's early life was not without incident, encountering engine vibrations, bird-strikes and even an accidental collision with a fuel bowser!
On 13th May 1963, XE665 was flown to Shorts Brothers' Belfast airfield, and remained there until the following November, when it was transferred to Heron Flight at RNAS Yeovilton. It was initially operated as aeroplane '947' but in 1966 it was refinished in the spectacular blue and white colours of an Admiral's Barge. Following maintenance at RAF Kemble with 5MU (March 1967-January 1968), XE665 was transferred to RNAS Brawdy where it joined 759NAS as '802', and was operated on training duties for the next twenty-two months. It's next posting was to 738NAS, also based at Brawdy in December 1969 as '780', but this was only a short-term move as it was moved back to RNAS Yeovilton in June 1970, becoming a part of the Air Direction Training Unit (ADTU) fleet. Operated as aeroplane '741' with a 'VL' shore code on the fin, XE665 was employed on training flights, until it was sent to 5MU Kemble for deep maintenance, and subsequently long-term store on 9th February 1971.
Four years of inactivity ended on 11th February 1975, when it was put back into service with the Fleet Requirements and Air Direction Unit (FRADU) at RNAS Yeovilton, being issued with the fleet number/call-sign '878'.
It remaining in service with the Fleet Air Arm until August 1979, when it was again moved into store, but was loaned to the RAF at Honington in April 1980. Operated in toned down Royal Navy colours with no Unit markings, XE665 became a busy member of 237OCU's (Operational Conversion Unit) fleet of two-seat Hunters for the next four years. On 5th April 1984, XE665 was returned to Fleet Air Arm service at Yeovilton, adopting the call sign '876'. It suffered a bird-strike to its nose within months of its return but did not suffer serious damage. In September 1985, the aeroplane was moved to Hurn where Lovaux Ltd carried out a major inspection and overhaul.
Prior to its return to FRADU on 11th April 1986, XE665 had been refinished into all-over dark sea grey colour scheme, and it was operated from Yeovilton for the next nine years without incident.
On 25th April 1995, the airframe was ferried to RAF Shawbury for store.
---

[© Eric Tammer]
---

[© Rob Schleiffert]
---

[© Ed Groenendijk]
---
XE665's civilian life
Entered into the July 1995 Phillips auction by the MoD, the aeroplane was purchased by Barry Pover and Barry Pearson. It was placed on the civilian register as G-BWGM, and ferried to Exeter Airport where it joined the growing Classic Jet Aircraft Company stable of Hunters. It was then prepared for a career on the airshow circuit, appearing at several events during the 1996, 1997 and 1998 seasons before being placed into storage at Exeter as its flying career gradually wound down.
Ownership of XE665 passed to Barry Pearson outright during 1999, and in 2006 the aeroplane was moved by road to Kemble where Delta Jets began a survey to see if the aeroplane could be returned to flying condition.
This did not proceed and XE665 was placed back in store, and it's G-BWGM registration was cancelled by the Civil Aviation Authority (CAA) in March 2011.
During 2013, XE665 joined the Mid-Air Squadron collection initially as a static exhibit, shedding its FRADU livery in favour of a smart all-silver finish. and it remains at Kemble, now called Coltswold Airport today on display.
- December 2020
---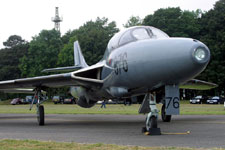 [© author]
---

[© Paul Ridgewell]
---