XF368's service history
Hawker Hunter XF368 began life as a F.4 for the Royal Air Force, having been manufactured by Hawker Aircraft (Blackpool) Ltd.
It was delivered to the RAF on 7th March 1956, going to 33MU (Maintenance Unit) at RAF Lyneham for final preparation prior to entering service. Its first posting was to RAF 3(F) Sqn, part of the RAF force in West Germany as aeroplane 'C', and it was later moved to RAF Gutersloh to join RAF 71(F) Sqn. Its next posting was to RAF 4(FR) Sqn also based at Gutersloh, followed by a stint with RAF 118(F) Sqn at RAF Jever, also based in West Germany. XF368 then ended its RAF career with 229OCU (Operational Conversion Unit) at RAF Chivenor in Devon during 1961.
The aeroplane was one of forty Hunter F.4s transferred to the Royal Navy, and Hawkers were contracted to refurbish and convert all to GA.11 specification.
XF368 was formally accepted into Fleet Air Arm service on 2nd October 1962, and it joined 738NAS (Naval Air Squadron) nine days later as aeroplane '645' with a 'LM' shore code applied on the tail fin. The Squadron moved to RNAS Brawdy in December 1963, and XF368 remained in use with the Unit for the next three years, ending its days as aeroplane '785'. XF368 was re-issued to 764NAS at RNAS Lossiemouth as '695' on 14th December 1966, its home until February 1970 when it was moved to 5MU (Maintenance Unit) at RAF Kemble for modernisation work. It returned to 764NAS on 22nd February 1971, again as '695' before moving south to RNAS Yeovilton on 13th July 1972, where it joined the Airwork-run Air Direction Training Unit (ADTU) as '733'.
XF368 became a part of the newly formed Fleet Requirements and Air Direction Training Unit (FRADTU) on 1st December 1972, and became '863' during September 1973. Aside from a paint refinish (September-October 1975) and airframe modernisations at Sydenham (March-September 1977) and Kemble (March-April 1978), XF368 remained a part of the FRADU fleet (the 'T' was dropped from the Unit's name) throughout the rest of the decade. On 1st February 1980, the aeroplane was flown back to Kemble for maintenance and another refinish, a process that took eleven months to complete. It was back at Yeovilton between January 1981 and November 1983, when it was moved to RAF Abingdon for modernisation and store. It returned to the ranks of airworthy Hunters on 18th February 1985.
On a flight from Gibraltar on 7th June 1985, XF368 suffered engine problems and had to divert to Tangiers. The rear fuselage was changed on site and the aeroplane returned to Yeovilton on 9th July 1985, where it remained in service until it was ferried to Lovaux at Hurn during 1990, for firstly paint refinishing, and then later in the year, airframe maintenance. Returning to the fleet on 11th March 1991, XF368 served out its FRADU career without further incident, its ferry flight to RAF Shawbury for storage on 25th April 1995 bringing the curtain down on its life with the Fleet Air Arm.
---

[© Robin A Walker]
---

[© Eric Tammer]
---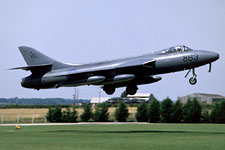 [© Rob Schleiffert]
---
XF368's civilian life
XF368 remained mothballed at Shawbury until February 2001, whilst legal wrangles concerning its ownership (as it had been funded by the USA when manufactured) were sorted out. It was auctioned off in November 2000 at Phillips in London, and South Africa-based Ian Pringle emerged as its new owner. It was ferried to Exeter, using the British registration G-BZRH, where the Hunter Flying Club prepared it for its long ferry flight to Cape Town, South Africa. It departed Exeter in mid-June 2001, arriving safely at its new home at Cape Town just over a week later.
Once in South Africa the aeroplane continued to fly for a short time before being grounded. It never gained a South African civilian flight permit, and with the demise of Thunder City in 2009 following a fatal crash the aeroplane was placed in store. In 2019 the airframes of Thunder City were advertised for sale but XF368 was not listed amongst them as it is believed to have been spares recovered and scrapped.
- December 2020
---

[© Paul Ridgewell]
---