WT806's service history
Hunter WT806 was built at Hawker Aircraft Ltd's Kingston-upon-Thames, as a Mk.4 aeroplane for the Royal Air Force. Hawker test pilot Duncan Simpson was at the controls for its first flight on 31st March 1955, and it was delivered to the RAF during April, entering service with RAF 14(F) Sqn based at RAF Oldenburg in West Germany. This transpired to be its only assignment, as during a flight the aircraft was over-trimmed during a tight turn that jammed the accelerometer at 10G. As a result WT806 was returned to Hawkers for a complete strip down and rebuild, but was never returned to RAF service.
Transferred to the Royal Navy in 1961, and brought up to full GA.11 specification by Hawkers, WT806 was delivered to the Fleet Air Arm at RNAS Lossiemouth in June 1962. Following preparation for service it was assigned to 738NAS (Naval Air Squadron) at RNAS Lossiemouth as aeroplane '641'. WT806 suffered several bird-strikes during its time with the Unit, but continued to be an active aeroplane until it was ferried for RAF Kemble for maintenance and long-term store with 5MU (Maintenance Unit).
It remained in store at Kemble until November 1974, when it was moved to Sydenham for modernisation work prior to re-entry into Fleet Air Arm service. On 15th July 1975, as aeroplane '838' WT806 joined the FRADU at RNAS Yeovilton. It remained in use, aside from periods of maintenance and refinishes at Kemble (January-March 1979, March-April 1981, August 1981-May 1982) until February 1987, when it was flown to RAF Shawbury for long term store.
A month later, WT806 was transferred to the Royal Air Force and was ferried to RAF Chivenor by Brian Grant on 26th March 1987. It was re-finished in an RAF camouflaged scheme that represented the resident flying Units and those of the past Hunter operators from the airfield. Plans to keep the aeroplane airworthy did not transpire, and the aeroplane was instead ferried to RAF Abingdon in March 1991 for storage, moving onto RAF Shawbury later that year. It remained 'mothballed' until being placed up for disposal in November 1994, via a Sothebys auction.
---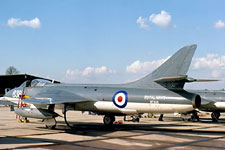 [© Robin A Walker]
---

[© Eric Tammer]
---

[© Hugh Trevor]
---
WT806's civilian life
WT806 was hammered down for £1300.00 to Richard Everett, an individual with an expanding aircraft collection based in Ipswich. It was dismantled and moved by road to his home during 1995, and remained there until 2000 when it was offered for sale.
During 2001, WT806 was bought by Northbrook College, and was moved by road to its new home at Shoreham airfield during July 2001, where it was re-assembled and employed as a technical training airframe. It remains there for the next nine years, sporting its RAF camouflage from its days at Chivenor, and was a regular static participant during the annual Shoreham Airshow events.
During late 2010, WT806 was sold into new ownership and it arrived at Bruntingthorpe airfield in Leicestershire by road on 22nd December.
A restoration programme was begun to bring the aircraft back to ground running status, with its team immediately beginning the process of acquiring the necessary parts to achieve it.
The aircraft was refinished into it's former Royal Navy livery and first taxi runs took place in May 2016, and it has since become a popular 'live' airframe at the annual Cold War Jets Open Days held at Bruntingthorpe.
More recently '838' has been reapplied to the fuselage, giving the airframe the look it had when it took its last flight back in 1987.
- December 2020
Links
WT806 Hawker Hunter GA11:

[© Martin Stephen]
---

[© Thomas Howe]
---