XX261's service history
Hawker Siddeley Ltd built Hawk T.1 XX261 for the Royal Air Force (RAF), and it was test flown from its Dunsfold factory.
Painted in a wraparound camouflage scheme, it was delivered to its new owners on 3rd January 1979, and issued to No 1 Tactical Weapons Unit (1TWU) as aeroplane '139' at RAF Brawdy in Wales. Operated on training duties, XX261 remained in service until it was withdrawn in March 1984, when it was sent to British Aerospace (BAe) for airframe modifications that would allow it to carry AIM-9 Sidewinder missiles and be operated on air defence duties if required. It was returned to Brawdy on 8th June 1984, as a Hawk T.1A and was reintroduced into service immediately with 1TWU's component RAF 234(R) Squadron. Subsequently refinished into air defence grey and moved onto the strength of component squadron RAF 79(R), XX261 was flown from Brawdy until August 1992, when 1TWU itself was disbanded.
The aeroplane was then moved to RAF Valley on 2nd October 1992, where it was re-issued to No.4 Flying Training School (4FTS), which had taken over the RAF's Tactical Weapons training element from 1TWU. It rejoined RAF 234(R) Sqn, which had been reformed as a component squadron at Valley, and was issued the identity code 'DH'.
During April 1994, RAF 234(R) was renumbered RAF 208(R) Sqn and XX261 was initially absorbed into the 'new' fleet, but was later passed to the other 4FTS component unit, RAF 19(R) Sqn, that was responsible for weapons training. It was refinished into RAF gloss black training livery and was operated on training tasks for the next 12 months, prior to being withdrawn in September 1995, when it was moved RAF Shawbury for a period of storage.
XX261 was reactivated during August 1997, when it was allocated to RAF 100 Squadron at Leeming, and operated as airframe 'CR' on target facilities work. Once again this turned out to be a short stay, as just eight months later the airframe was moved back at RAF Valley and re-assigned to RAF 208(R) Squadron uncoded, apart from the last three digits of its serial applied on the fin. Aside from periods of maintenance, it remained in service continuously on advance flying training duties for the next five years, eventually receiving full 208(R) Unit markings on the rear fuselage and under the cockpit.
Prior to the 2004 display season, XX261 was one of two airframes selected to be used by the official RAF Hawk display pilot.
It was painted in a special scheme, with a Union jack liveried fin with a red cheat-line extending down the fuselage, celebrating 30 years of the Hawk in RAF service, and was seen at events both in the UK and abroad.
At the end of the airshow season it was sent back in the paint-shop and was returned to RAF 208(R) Sqn in standard black training livery without any markings present. These were reintroduced onto the airframe during 2006, and it remained in service until September 2007, when XX261 was withdrawn from service and moved to RAF Leeming for an avionics upgrade.
XX261's FRADU career
Once the work had been completed XX261 was placed on loan to the Royal Navy, and on 28th October 2007 was ferried to RNAS Culdrose to join the Fleet Requirements & Air Direction Unit (FRADU). All traces of its previous life with RAF 208(R) Sqn were promptly removed as it was introduced into Fleet Air Arm service and began to operate on FRADU taskings.
During March 2009, XX261 was ferried to RAF Cranwell to receive special Fly Navy 100 anniversary markings on the spine and tail fin, and it retains the remnants of these markings today. During 2012, the airframe underwent a lengthy period of maintenance at RAF Valley, thus assuring its flying career for the foreseeable future.
In June 2013, following the reform of 736 Naval Air Squadron (736NAS) at RNAS Culdrose, XX261 was absorbed into its fleet with all of the FRADU Hawks, and continues to serve the fleet on various taskings.
---

[© Ian Haskell]
---

[© author]
---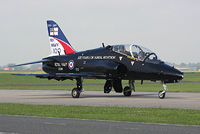 [© author]
---

[© author]
---