XX221's service history
Hawk XX221 was built by Hawker Siddeley Ltd. and was first flown from its factory airfield at Dunsfold.
It was delivered to the Royal Air Force (RAF) on 30th June 1978, and was issued to RAF Brawdy where it was to join No. 1 Tactical Weapons Unit (1TWU). The airframe was painted in a wraparound camouflage scheme, issued the identity '125' and employed on weapons training, eventually being issued to 1TWU's component unit RAF 79(R) Squadron (Sqn). During July 1983, XX221 was modified by British Aerospace to carry AIM-9 Sidewinder missiles, which would allow the airframe to be tasked with limited air defence duties should the need arise. It was returned to Brawdy on 4th October 1983, and introduced into the training programme as a Hawk T.1A.
The airframe would later be refinished into a air defence grey colour scheme, as it remained in use throughout the rest of the decade.
On 30th October 1992, following the disbandment of 1TWU XX221 was moved to RAF Valley to join RAF 234(R) Sqn, a component Unit of No.4 Flying Training School (4FTS). Still sporting its grey colour scheme, the airframe was subsequently issued the identity 'DG' and continued to be operated on tactical weapons duties until the 234(R) Unit was stood down in April 1994.
Its airframes were then passed to RAF 208(R) Sqn, and XX221 was operated on advanced flying training duties for the next two years. During late 1996, it was transferred to RAF 74(R) Sqn, another component unit of 4FTS. The airframe, now refinished in gloss black training livery and sporting the Tiger head emblem of the squadron on the tail fin, returned to the tactical weapons training role until 74(R) itself was disbanded on 22nd September 2000.
XX221 was then not officially assigned to a component Squadron within 4FTS, being used by any of the Units as and when required.
On 3rd January 2002, XX221 was ferried to St Athan to pass through the Hawk Fuselage Replacement Programme (FRP), returning to RAF Valley in July that year. It was subsequently issued to RAF 19(R) Sqn, and full unit markings were applied to the airframe the following year, as it continued to amass further pilot training hours. Following an overhaul in the spring of 2007, the airframe paint finish reverted to plain black as all unit markings were removed, but it continued to serve with RAF 19(R) for a further 18 months.
XX221's FRADU career
XX221 was placed on loan to the Royal Navy from the RAF, as a result of an airframe shuffle between the UK Hawk operators.
The aeroplane moved to RNAS Culdrose on 8th December 2008 and was integrated into the Fleet Requirements & Air Direction Unit (FRADU) fleet. The airframe suffered a Cat.3 bird strike during 2010, and repairs were begun at Culdrose, where it remained whilst the FRADU moved temporarily to RNAS Yeovilton between March and June 2011.
During early 2013, XX221 was moved by road to RAF Valley where the repairs will be completed.
The aeroplane is scheduled to return to Culdrose in due course, but following the withdrawal of the FRADU, and the reformation of 736 Naval Air Squadron (736NAS) in June 2013, it will join the latter Unit when serviceable.
---

[© author]
---
---

[© author]
---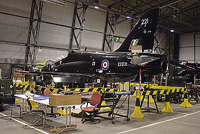 [© author]
---
Post FRADU career
XX221 made its return to RNAS Culdrose in August 2014, and it joined 736NAS. Its period of service at Cornwall lasted almost three years until July 2017 and it was operated in its plain black livery.
Its next move was back to RAF Valley, where following maintenance it was re-issued to the RAF and joined RAF 100 Sqn at Leeming initially as airframe '221' but this was soon changed to the Squadron lettering 'CO'.
During October 2019, XX221 was ferried to RAF Valley to begin a period of deep maintenance, that will help extend its military life until the Hawk T.1's planned out of service date in 2030
- December 2020