XX337's initial service history
Hawk XX337 was first flown by Hawker-Siddeley from its Dunsfold airfield, and was subsequently delivered to the Royal Air Force (RAF) on 2nd March 1981. The airframe was painted in wraparound camouflage and issued to No.2 Tactical Weapons Unit (2TWU) at RAF Chivenor, where it was utilised for weapons training duties. Issued the airframe letter 'K', XX337 remained in service with 2TWU's 'component' Unit RAF 151(R) Squadron (Sqn) until it was withdrawn in the spring of 1984, and sent to British Aerospace for airframe modifications. This work would allow AIM-9 sidewinder missiles to be carried by the airframe, and be used in an air defence role should it be deemed necessary. It was returned to RAF Chivenor in October 1984, and was eventually refinished into air defence grey colours, keeping its 'K' identity.
During September 1992, RAF 151(R) Squadron was disbanded, as was 2TWU, and XX337 became a part of the newly reformed No. 7 Flying Training School (7FTS). Similar to 2TWU, 7FTS used two separate component units within its fleet, and XX337 was issued to RAF 92(R) Squadron, where it remained in use until 7FTS' role was transferred to 4FTS at RAF Valley. Its airframes now redundant, RAF 92(R) was disbanded on 30 September 1994.
XX337's first FRADU career - see here for images of this period
XX337 first appeared with the Fleet Requirements & Air Direction Unit (FRADU) in October 1994, when it was sent on loan to RNAS Yeovilton from RAF Chivenor. It went back to its parent base the following month, but was returned officially on 6th February 1995, as a Fleet Air Arm airframe on loan from the RAF. It was initially operated on FRADU taskings in its former RAF air defence grey colour scheme complete with 'K' code on the tail for a month, until it received a mainframe change and paint refinish into all-black training livery at RAF St Athan. XX337 was then operated from RNAS Yeovilton between May and November 1995, until it was ferried to RNAS Culdrose in preparation for the move of FRADU the following month.
It was operated from Cornwall by FRADU on various taskings until June 1997, when it was ferried back to RAF Athan for a major overhaul and another paint refinish into standard RAF gloss black training livery. Six months later, XX337 was returned to Culdrose and immediately reintroduced into service, remaining active until another spell at RAF St Athan beckoned in November 2000. Selected to go through the RAF Hawk Fuselage Replacement Programme (FRP), the airframe was grounded until the process was completed in May 2001. It was then placed in store pending its next Unit assignment.
Return to the RAF
The airframe was formally accepted back into the RAF in the summer of 2001, and was incorporated into the 4FTS Hawk fleet at RAF Valley. It was subsequently issued to RAF 208(R) Sqn's pool of airframes used for advanced flying training duties, and the Unit markings were applied on the rear fuselage and on the nose. During early 2007, XX337 was transferred to the other RAF Unit within 4FTS; RAF 19(R) Sqn, and its 208(R) Sqn blue/yellow bar markings were soon swapped over for the blue/white chequerboard of its new Unit. Its stay was only brief however, as it was noted back with RAF 208(R) Sqn by the turn of the year.
Back with FRADU!
XX337 returned to the Fleet Air Arm during the spring of 2008, following a reshuffle of Hawk airframes in service at Culdrose, Valley and Leeming. All RAF markings were removed shortly after XX337 arrived at Culdrose to rejoin the FRADU fleet.
During March 2009, XX337 was one of seven FRADU Hawks selected to receive special Fly Navy 100 (FN100) markings, and these were later applied at RAF Cranwell. For the following four years XX337 remained an established member of the fleet, and when not based at RNAS Culdrose could be found in use with Navy Flying Standards Flight (FW) - NFSF(FW) at RNAS Yeovilton, where FRADU permanently detached two Hawk airframes.
In June 2013, FRADU and its fleet was absorbed into the reformed 736 Naval Air Squadron (736NAS) at RNAS Culdrose, and the Unit will continue to carry out taskings that have been associated with the FRADU for the past 40 years.
---

[© Robin A Walker]
---

[© author]
---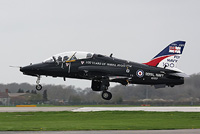 [© author]
---

[© author]
---