XX157's initial service history
Hawker-Siddeley Ltd. built Hawk XX157, and it took its first flight from Dunsfold airfield during April 1975.
Painted in a red and white finish, the number '3' was issued and applied on the airframe tail fin, and it was introduced into the test and development programme, which involved being utilised in the weapons trials of the Hawk platform. It also took part in the 1976 Farnborough airshow, as part of a 9-ship Hawk display team.
With the initial Controller Aircraft (CA) release for the Hawk being granted in October 1976, thus allowing the Hawk airframe to begin to enter Royal Air Force (RAF) service, XX157 was subsequently refurbished and released to the Ministry of Defence (Procurement Executive) at Boscombe Down for further service trials. It eventually entered RAF service on 11th December 1979.
XX157 was issued to RAF Chivenor and became a part of the No.2 Tactical Weapons Unit (2TWU) 'shadow' Squadron (Sqn), RAF 63(R). It was refinished in an RAF camouflage colour scheme and was operated on training duties from the Devon airfield. During 1985, XX157 was modified by British Aerospace (BAe) to carry AIM-9 sidewinder missiles, which would allow it to be redeployed as an limited air defence platform in times of crisis.
The airframe was returned to RAF Chivenor, resplendent in a new air defence grey colour finish on 18th April 1986. Coded 'A', XX157 recommenced its weapons training role with RAF 63(R) Sqn and subsequently became a part of No.7 Flying Training School (7FTS) on 1st April 1992 when 63(R) Sqn was stood down at RAF Chivenor. It continued in service there as a part of RAF 92(R) Sqn, coded 'B' with a blue-coloured fin, until the unit was disbanded in October 1994, due to the pending closure of the airbase.
XX157's first FRADU career - see here for images of this period
With no short-term requirement of further RAF use, XX157 was placed on loan to the Royal Navy, and it arrived at RNAS Yeovilton to commence Fleet Air Arm service on 16th February 1995. The aeroplane had by now shed its air defence grey finish in favour of the new all-black RAF training scheme and became a part of the Fleet Requirements & Air Direction Unit (FRADU), and continued to be operated from Yeovilton until 27th November, when it was ferried to FRADU's new base at RNAS Culdrose.
It was withdrawn from the FRADU fleet in March 1999 and moved for RAF St Athan for airframe maintenance, where it remained for six months. It was returned to FRADU on 28th September 1999 and immediately re-commenced task flying with the Unit. Following four years of steady service, it was moved back to St Athan for further maintenance work on 11th November 2002.
After this had been completed the following year and the airframe cleared for return to service, XX157 was returned to FRADU, but its stay back with the Fleet Air Arm was brief. During the spring of 2004, it was returned to the RAF at Valley.
Return to the RAF
Once back at RAF Valley. XX157 was issued to 4FTS and became a part of the RAF 208(R) Squadron fleet. It was employed on advanced flying training duties, adopting the Unit's yellow and blue stripe markings and emblem on the airframe.
Back to FRADU!
During the summer of 2008, there was a major reshuffle of the Hawk airframes between FRADU at Culdrose and the RAF bases at Valley and Leeming, and as a result XX157 was returned to FRADU. All RAF markings were removed from the airframe as XX157 recommenced Fleet Air Arm service at RNAS Culdrose. The airframe received special Fly Navy 100 markings on its spine and tail fin in April 2009, and spent the next four years spending its time based at Culdrose or RNAS Yeovilton with Navy Flying Standards Flight (Fixed-Wing) - NFSF(FW).
During June 2013, 736 Naval Air Squadron (736NAS) was reformed at RNAS Culdrose, and all of the FRADU's fleet and staff were transferred to the new Unit. In addition to the standard FRADU taskings,
---

[© Robin A Walker]
---

[© author]
---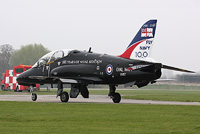 [© author]
---

[© author]
---