WJ866's service history
Built by English Electric at Preston, WJ866 was ordered by the Royal Air Force. Following the necessary flight tests, it was declared ready for collection in September 1954, and shortly afterwards received its first service posting with the RAF Wyton Station Flight. It is not known how long WJ866 was used at the time of writing, or when it was transferred to its next confirmed Unit, the Royal Air Force Flying College (RAFFC) at RAF Manby. Employed for training purposes, the aeroplane gave steady if unspectacular service. Its next move was to RAF Bassingbourn, where it was assigned to No.231 Operational Conversion Unit (231OCU), and remained in use until it was withdrawn from service and ferried to RAF Shawbury during October 1969 for store.
On 15th January 1971, WJ866 was transferred to Royal Navy charge when it arrived at Hurn airfield to join Airwork Service Ltd's Fleet Requirements Unit (FRU). Issued the fleet number '849', the aeroplane was operated as a pilot trainer for the Unit's Canberra TT.18 and B.2 aircrew from the Dorset airfield, until the FRU moved its aircraft fleet to RNAS Yeovilton in November 1972. WJ866 was one of four Canberras to depart for their new base on 24th November, and a week later the FRU merged with the Air Direction Training Unit (ADTU) at Yeovilton, forming the new Fleet Requirements and Air Direction Training Unit (FRADTU). Retaining its '849' identity, WJ866 was kept in service until December 1974, when it was flown to RAF Kemble for a paint re-finish with 5MU. On its return February 1975, WJ866 was re-assigned the fleet code '859' and remained in service for a further eighteen months until it was moved to Salmesbury for airframe reconditioning.
WJ866's third spell with FRADU began on 15th November 1976, but nine months later it suffered damage caused by a wheels-up landing at RNAS Yeovilton.
This kept it on the ground until 4th May 1979, when it was test flown for the first time following repairs to the airframe. Its return to service was brief, as it was moved to RAF Athan three months later for storage and did not return to FRADU until April 1980. Just ten months of steady service followed before WJ866 was again withdrawn and flown to Salmesbury for a full refurbishment in February 1981.
WJ866 was declared serviceable in September 1982, but it did not immediately re-enter service as the Navy instead chose to place it back in store at RAF St Athan.
On 16th March 1983, and with no short-term prospects of WJ866 being required by FRADU, the aeroplane was loaned to the RAF at Wyton.
The aeroplane's fleet number and Royal Navy lettering were removed as it entered service with 231OCU as aircraft 'BL'.
On 1st April 1986, WJ866 was officially transferred back to the RAF, and WJ866 was finished into standard camouflage, though still retaining its 'BL' identity. The aeroplane remained in use with 231OCU until it was disbanded in April 1993. Promptly WJ866 was transferred to the combined RAF/Royal Navy Canberra Unit, RAF 360 Sqn based at RAF Wyton, and it gave steady service until that Unit's disbandment in October 1994. The serviceable T.4 airframes were then moved to RAF Marham to join RAF 39 (1 PRU) Squadron, and were rotated between service and storage. During 1995, WJ866 was re-coded aircraft 'AM' and was operated as such until its turn for a spell in store began in February 1998 at RAF Shawbury. It would remain there until it was re-introduced to RAF 39 Sqn in May 2000. Three months later the aeroplane was moved to Flight Refuelling Aviation at Bournemouth for a major service, which would guarantee its flying life for the foreseeable future. It was returned to Marham in 2002, and re-commenced its training duties.
On 2nd September 2004, WJ866 was written off in a landing accident landing at Marham, tragically two of the crew were killed.
- December 2020
---

[© Lindsay Peacock]
---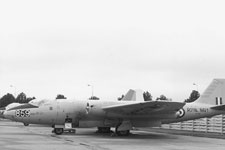 [© Robin A. Walker]
---

[© Eric Tammer]
---